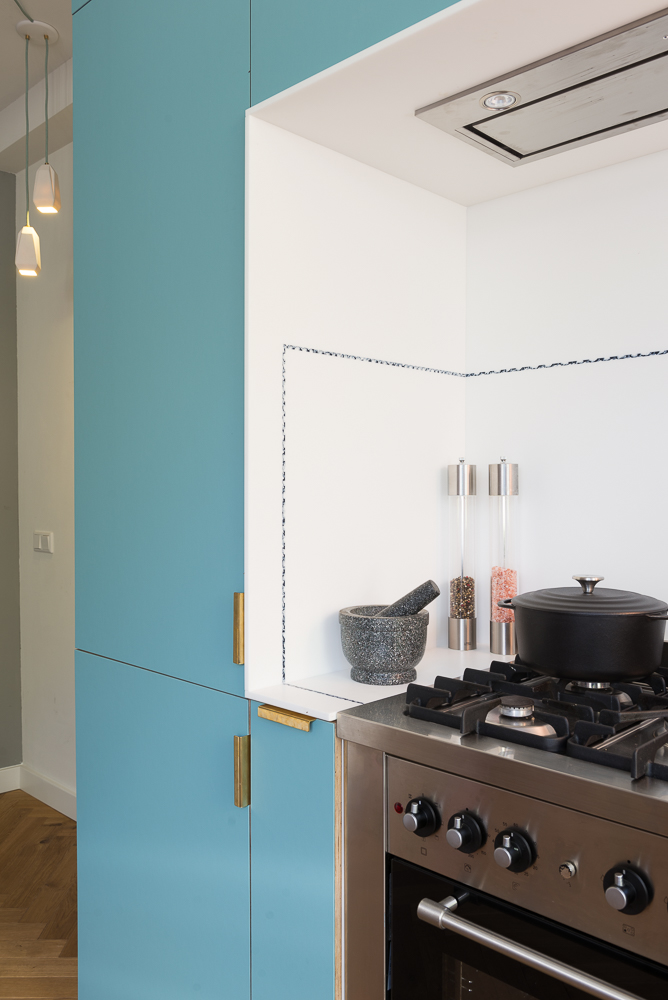 a designed custom kitchen by Studio Thier&vanDaalen, 2017
The studio explored the possibilities of HI-MACS by using a corresponding and contrasting colour for the liquid version. Instead of using the liquid version in an invisible way, they used it as a decorative part of the design. Look for more at SOLID/LIQUID food dishes 
During the Dutch Design Week in 2016 we showed our experiments with this solid surface material. That was the point were Anne & Mark (the kitchen owners) said, we like to have this in our kitchen and we said; yes why not!
The kitchen exists out of a Hi-Macs worktop cocoon (seamless worktop, sides, back and ceiling) and fronts from multiplex with Forbo and brass handles. With a remarkable and infinite decor line, the studio developed by the studio.
HI-MACS, also known as natural acrylic stone, is a beautiful sheet material that feels smooth and soft like natural stone and is available in many colours. This material is mainly used in kitchens and bathrooms, because of the unique hygienic properties.
It is seamless & non-porous without crevices or surface irregularities where harmful bacteria and mold may reside. Stronger surface with durability similar to that of natural stone, wear and tear with higher resistance to stains, chemical & heat.
Next to that, the fronts are made from multiplex with a Forbo top, this feels soft and matches the himacs perfectly. The brass handles we designed for this kitchen are a beauty and makes the total kitchen stand out.
Are you or a friend searching for a nice and unique kitchen, handles, or more, please emails the studio! We are open for new ideas and wishes!
Click here for more info and images of the expo THE YOUNG COLLECTORS