Wall cabinet of the series CuratorCabinet
materials: acrylic glass bubble, Ash or Walnut frame & mirror.

variations: clear, blue, graphical patterns & opaque (light object), they are optional with a glass shelf.

sizes: 50 x 42 x ±15 cm, 90 x 72 x ±20 cm and more.

since 2012



These elegant mirrors with wooden frame can brighten up your day. The added bubble in front of your precious object create an unique effect of depth. As if your souvenir floats in a bubble!
With different variations in colours, patterns and sizes you can create your own niche.
These mirrors are handmade in the Netherlands.
By developing their own machine in which they can form plexiglass panels in organic curved shapes, they are able to make showcase cabinets with a magical effect. The most bizarre objects fit in with the advantage that you can see it from all sides. Because the cabinet hangs or stands serene within the space, there is something magical and poetic around it.
It all started with the idea to emphasize the current trend of mass consumption. To regain what we already have, instead of buying new products every time.
Show your most beautiful and precious object in an organic shaped showcase mirror, so that they reinforce each other to receive more attention.
limited edition: Transparant 80, Transparant with shelf 40, Blue 40, Graphic (pattern) 20, light object.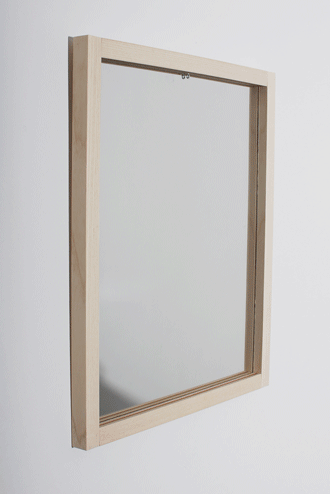 photography and styling: Studio Thier&vanDaalen