a series of geometric yet playful food dishes for restaurants and at home.
materials: HI-MACS, beech, brass

variations: round, long, wide & petit

year: 2016 on going
With SOLID/LIQUID, Studio Thier&vanDaalen created a series of food dishes where they intuitively explored different combinations of forms, textures and colours. Combining different materials, such as HI-MACS & wood they created a geometric yet playful composition on the wall and table.
The studio explored the possibilities of HI-MACS by using a corresponding and contrasting color for the liquid version. Instead of using the liquid version in an invisible way, they used it as a decorative part of the design.
On the table is where the magic happens; serving appetizers and dishes in a unique and playful way with a festive elegance of colour and taste! And when not used on the table, the dishes will form a striking composition on the wall. The food dishes are perfect to serve appetizers or dishes for both restaurants and at home.
The name SOLID/LIQUID resembles the process of creating the pieces; geometric shapes of solid surface material are glued together. Thereby, the studio created a relief within the solid pieces for the liquid version to go its own way, creating new shapes and effects within the boundaries of the pattern. Therefore, in the production process, every piece is unique.
HI-MACS, also known as natural acrylic stone, is a beautiful sheet material that feels like natural stone and is available in many colours. This material is mainly used in kitchens and bathrooms, because of the unique hygienic properties.
The studio thanks Baars & Bloemhoff for sharing their knowledge and support.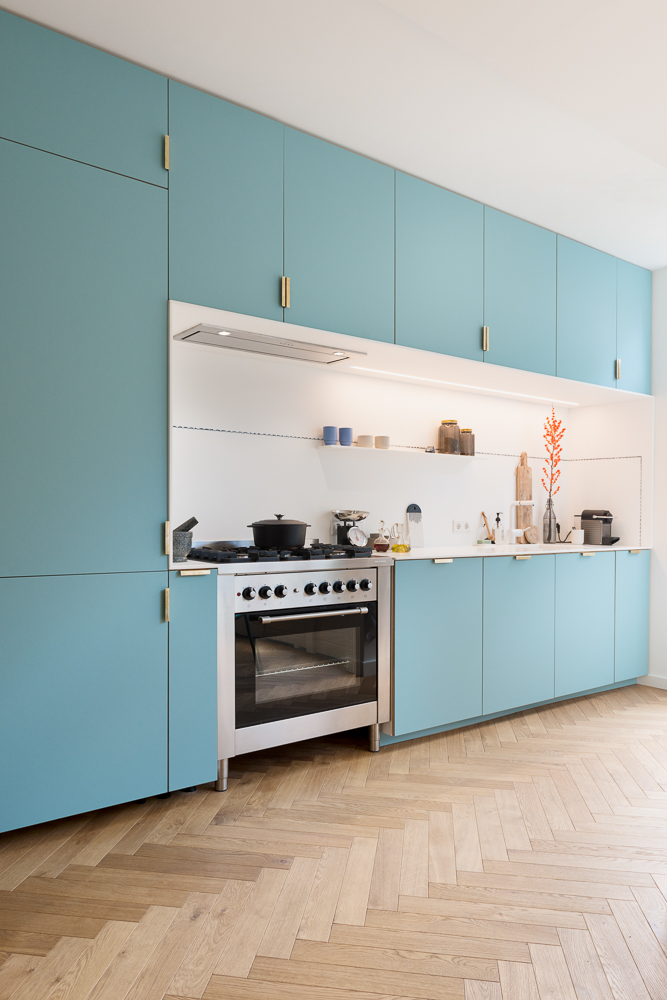 Designed custom kitchen by Studio Thier&vanDaalen
Hi-Macs worktop cocoon (seamless worktop, sides, back and ceiling) and fronts from multiplex with Forbo and brass handles.
For more info and questions emails us!